How to remove stubborn stains from artificial grass?
Share
Issue Time

11-14-2019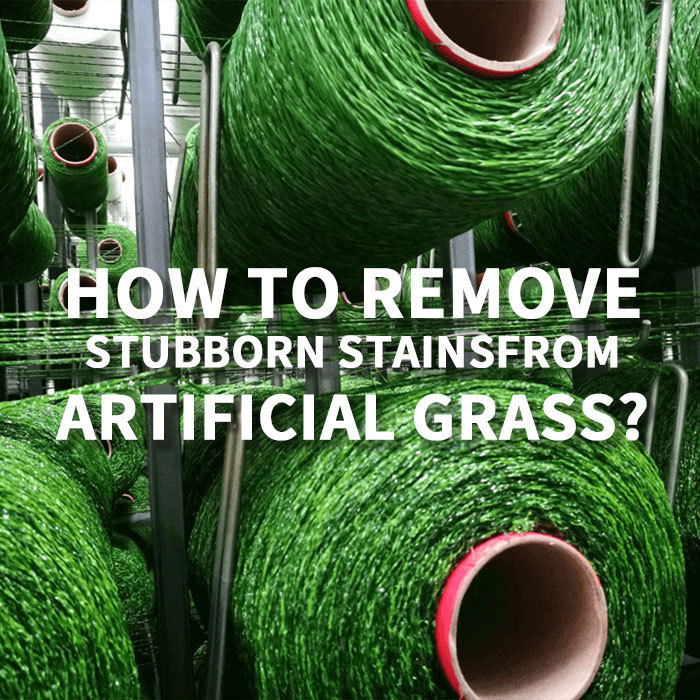 Do you currently have artificial grass on your property? Maybe you're thinking about installing fake turf in your home? Then, you need to know how to properly maintain your artificial grass to ensure it performs well in the long term and looks its best.
While fake grass requires far less maintenance than live lawns, it does require regular cleaning. If you're not sure about the best way to clean artificial turf, read on for helpful tips you need to know.
1. Proper cleaning frequency of artificial grass
First, you must make sure to clean the fake grass on a regular schedule. If your turf is heavily trafficked and used a lot, it's a good idea to clean it once a week to reduce the buildup of dust, dirt and debris.
If you allow your pet to poop on artificial turf, you will need to clean it more frequently to keep your lawn hygienic. However, if your turf is more of a cosmetic unit and you're not seeing a lot of traffic, you might be able to do weekly or monthly cleaning sessions.
2. Remove dust, dirt and yard debris
If your artificial grass doesn't have much traffic, you can just use a garden hose to remove accumulated dirt and debris. Simply spray your turf lightly with clean, cool water and let it air dry. It's also a good idea to sweep the grass with a lawn rake or hard broom, which will help keep the blades of grass in an upright position.

Artificial grass is designed to live, so if you accidentally spill drinks, food, or other substances on your fake turf, it's no big deal. Removing light stains from artificial turf is very easy - just blot whatever spills dry and wet the area with a hose. Once the grass is wet, apply mild soap, scrub gently, and rinse thoroughly with cold water.

4. Stubborn stain removal
Artificial grass is largely stain-resistant, so even if your turf develops a stubborn-looking stain, you shouldn't have a hard time removing the residue. Here's what you need to do to clean up stubborn stains on fake grass:
● Wet the area with a garden hose.
●
Apply a mild cleanser and use a bristle brush to gently remove stains from the grass.
●
Rinse off the cleaner with a garden hose.
●
If the stain doesn't respond to mild cleaners, you'll need to use a more durable cleaner, such as ammonia. If that doesn't work, try mineral spirits and make sure to rinse off the cleanser thoroughly after you're done.
5. Remove sticky residue from fake grass
If sap, gum, or any other sticky material gets stuck on artificial turf, cleaning up the sticky residue is very simple. Just wet the area with a garden hose, then use a mild cleaner or a 50-50 white vinegar and water mixture to dissolve the residue. Gently scrub the sod with a bristle brush, and when you're done, rinse off the cleaner with a garden hose.

6. Clean up pet litter on artificial turf
If you have pets freed from your fake grass, cleaning up is simple. Wait for any solid waste to dry completely, then continue with the following steps:
●
Pick up litter using a shovel, bag, or whatever you would normally use to pick up pet litter on live lawns.
●
Rinse the area thoroughly with a garden hose. Avoid using a pressure washer as it can damage the lawn.
●
Spray all areas where your pet relaxes weekly. You can use standard household cleaners to do the job.
●
Use a stiff brush to gently scrub the sod.
●
Rinse off the cleaner with a garden hose.
●
Use an odor neutralizer to remove any remaining odors.