9 Reasons Artificial Grass Is Better For Tennis Courts than Real Grass
Share
Issue Time

2022/08/02
Summary
Tennis is one of the most popular sports in the world, played by millions of people around the world. What kind of lawn should we choose to use as a tennis court?
Tennis is one of the most popular sports in the world, played by millions of people around the world. Now, while real grass doesn't work very well, the groundskeeper only needs to prepare for a full year for two weeks of competition!
This level of care and preparation might apply to the biggest netball tournaments and is not a viable solution for clubs and venues elsewhere. That's why pros and amateurs alike can choose from a vast array of materials, such as grass, clay, artificial grass, and concrete.
While grass is a popular surface texture, we know winter weather makes it impossible to play year round. That's why artificial grass is being used more and more, giving players the look of a traditional court with the benefits of grass, and a field that can be used 12 months a year.
The increase in artificial turf courts isn't limited to commercial tennis courts either. More and more private tennis courts are now also using tennis artificial turf for convenience and cost savings.
Why choose artificial turf as a tennis court?

With the improvement and maturity of tennis artificial turf, it has been more widely used around the world. There are many benefits to utilizing artificial grass, some of the most important include: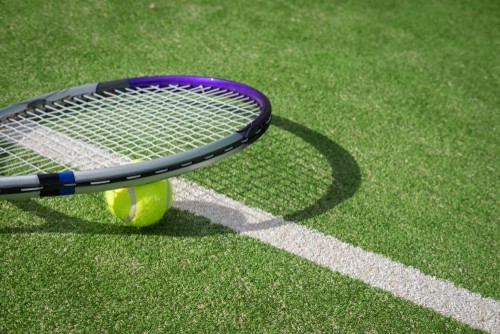 Arguably the biggest advantage of using artificial grass is the extremely low maintenance cost. Unlike real grass, which requires constant maintenance such as mowing, watering, and fertilizing to ensure it grows optimally, artificial grass only requires a brush to remove any debris.
This removes the hard work that groundskeepers have to deal with, allowing them to focus on other tasks without worrying about the condition of the turf. Thanks to this low maintenance, it also ensures that the artificial grass tennis court can be used year-round when needed.
Another very common advantage of artificial grass for tennis courts is that it is very durable and can be used for several years, with an average lifespan of over 10 years. Unlike real grass pitches, artificial grass is also more effective against all kinds of bad weather. From heavy rain and snow to constant UV exposure, the course will not only be unaffected, but will always be in top shape - ensuring no games are postponed or cancelled!

3. It will match the rustic look of your home
This low maintenance cost also means that artificial grass courts provide a more cost-effective solution for commercial and residential tennis courts. Not having to perform scheduled maintenance is a significant cost-saving endeavor, and for commercial tennis courts, operating year-round, regardless of the weather, ensures they can maximize profitability.
Although there is an initial cost during installation, the longevity ensures this is more cost-effective than other forms of tennis court materials.
One aspect that many people fail to consider when considering why artificial grass is better than real grass on a tennis court is that it is actually safer for players. When installing the artificial pitch, builders will build an effective drainage solution that will quickly remove any standing water and absorb it, ensuring the pitch won't slip and reduce the risk of falls.
Apart from that, unlike clay and concrete, artificial grass blades are soft to the touch. This means that if players do fall, they will be able to enjoy a softer landing. Likewise, clay and hard court movements have a high impact on the joints and change during the course of the game, while artificial grass tennis courts are consistent throughout, reducing stress on key areas such as ankles, knees and hips.
This unified structure is a significant advantage that other materials cannot match. When you use artificial grass in a tennis court, the blade height and thickness are on the order of millimeters across the court. Regardless of their frequency of use or extreme weather, players will be able to know exactly what's under their feet every second of the game.

The behavior of the ball and how it bounces is critical to playing tennis. When the texture of the court is consistent throughout, players will be able to know exactly how the ball is performing. This provides a better game for both parties, as they can effectively plan their strategy and play around behavior, not only helping to make the game more exciting, but also giving players the opportunity to improve their game.

Many tennis courts choose artificial grass because it provides a more permanent and vivid court line. On natural grass, painted white lines fade quickly over time when exposed to sunlight and weather, while regular use will see them smear and wear away.
The use of artificial turf in tennis courts ensures that these lines will remain vivid and clear no matter what environment they are exposed to.
8. Withstand Constant Use
Tennis is an incredible sport, and players can cause serious wear and tear on the court during the course of the game. From slip to stop, heel spin and miles of running ensure the pitch is under enormous pressure. This makes the turf look more prone to wear as the grass wears down and the soil suffers.
Using artificial grass will ensure there is no wear and tear throughout the game. This means that players will not cause the grass to wear down or the pitch to become uneven.
Many people mistakenly think that installing artificial turf on a tennis court is a long and time-consuming task, but this is not the case. Professional installers can quickly build a high-quality course with artificial grass rolled into rolls just like real turf.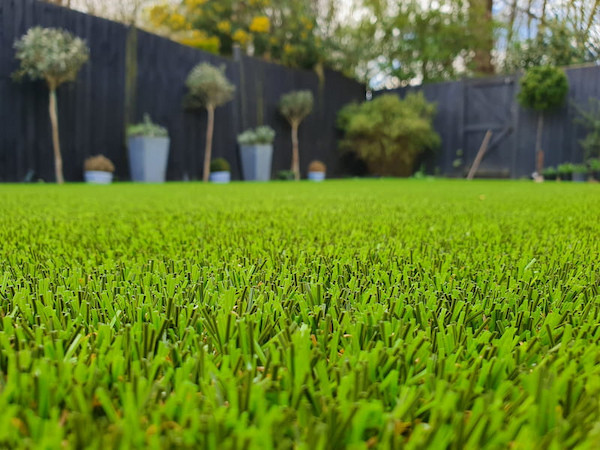 Are you looking for the best artificial grass?

Are you looking for the best artificial grass for your tennis court? UDINE Grass is committed to providing the best performing artificial grass for a variety of sports fields. As one of the world's leading suppliers, our grass has been specially developed through years of research and innovation.
Our UDINE artificial grass stands out from the crowd, ensuring you can enjoy the best solution for your tennis court. You can
contact us
and
get a free sample
, we guarantee a quality solution to ensure players can play their best games, and you won't have to deal with lengthy and expensive maintenance schedules!