How To Choose The Best Artificial Grass For Your School Or Playground
Share
Issue Time

2022/12/06
Summary
Although artificial grass can save a lot of time and money, it is important to know that at least some maintenance is required.
Not all artificial grass is suitable for every type of application.
That's because different applications have different requirements.
For example, a decorative front garden lawn receives far less foot traffic than artificial turf in a theme park picnic area.
So it makes perfect sense that each type of grass would require different properties.
The same goes for fake grass areas in schools and playgrounds, which is the focus of today's article.
Artificial grass has many advantages for schools and playgrounds compared to other types of surfacing.
It's perfect for transforming patchy, worn-out grass into lush green areas that can be enjoyed year-round, rain or shine.
It is ideal for extending an existing play area by turning more of a school or playground into a usable space suitable for fun and games.
Another major benefit is that it is also very low maintenance; meaning it saves schools and local authorities costly maintenance.
However, when choosing artificial grass for this particular application, it is important to choose one that will meet its requirements.
In this article, we'll explore some of the key characteristics to look for when choosing the best artificial grass for your school or playground application.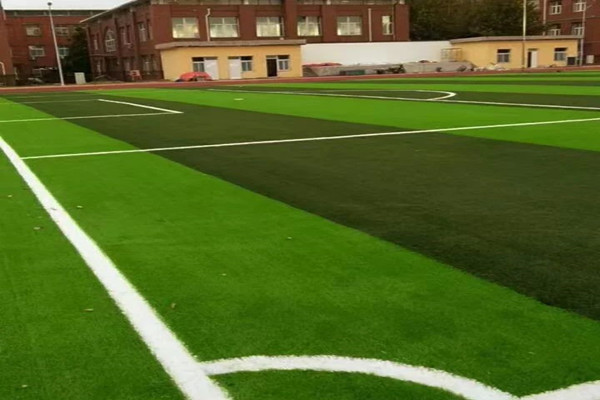 Choose a Product That Incorporates Nylon Fibres

When choosing artificial grass, it's not just aesthetics that are important.
Obviously, choosing a product that looks great is important, but in order to find the best artificial turf for a school or playground application, you need to take a close look at the turf you choose.
Man-made fibers can be made from three different types of plastic.
They are nylon, polypropylene and polyethylene.
The strongest fiber of the three is nylon, which is 33% stronger than polyethylene.
In the vast majority of school and playground applications, choosing a grass that is hard-wearing is critical.
Kids absolutely love artificial grass, and once it's installed, they can't help but play on it.
This means it will withstand high levels of foot traffic.
Since nylon is the strongest man-made fiber used to make fake grass, choosing a product made of nylon is a wise decision.
But what if you don't choose something hardwearing?
Well, what can happen with weaker fibers is that due to frequent foot traffic, they can break down and become permanently damaged.
When this happens, the fibers lie flat on the backing, causing the artificial turf to look unnatural.
When selecting the strongest, most resilient artificial turf for school and playground applications, instant recovery technology is highly recommended.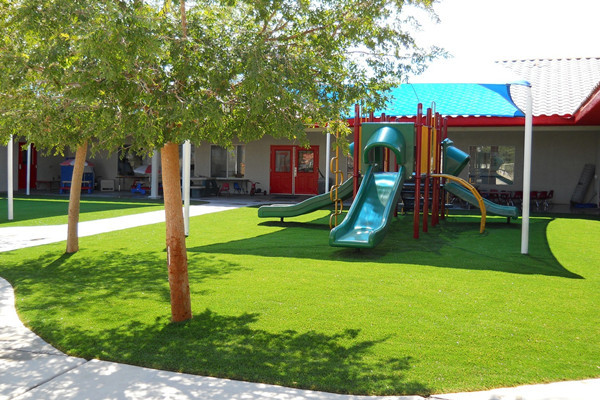 You should take a close look not only at the material from which the fibers are made, but also at their size and shape.
New Grass & Fake Lawn Suppliers
In general, the wider and thicker the fibers, the more wear-resistant they are.
The fine fibers tend to break down quickly, causing them to lie flat instead of standing upright, which is key to the realistic appearance of artificial turf.
When comparing different grades of artificial turf, be sure to compare the width and thickness of the fibers and check the technical information in the data sheet.
Regarding recommended sizes for school or playground applications, we recommend 200/99 micron fiber thickness.
This will help ensure the fiber will withstand regular use.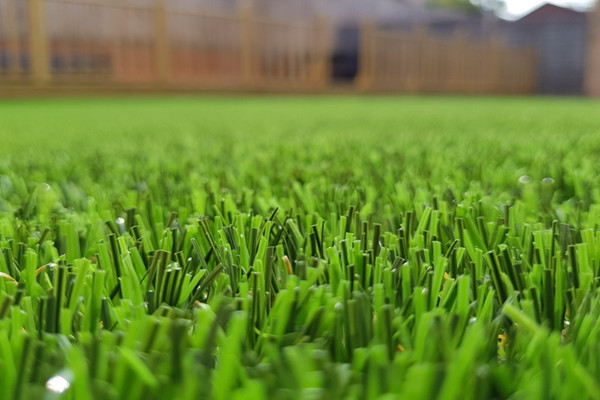 In addition to fiber thickness, it's also a good idea to compare pile densities.
Generally, the denser the haystack, the more durable the fake grass will be. That's because there's more fiber to withstand foot traffic.
When choosing the best artificial grass for a school or playground application, look for a minimum of 16,000 stitches per square meter.
Of course, the downside of dense artificial grass is that it tends to be more expensive. That's because the material costs per square meter are higher.
But the investment is well worth it because your school or playground surface will last longer and perform better. Trying to save money on this aspect of the project will likely prove to be a false economy.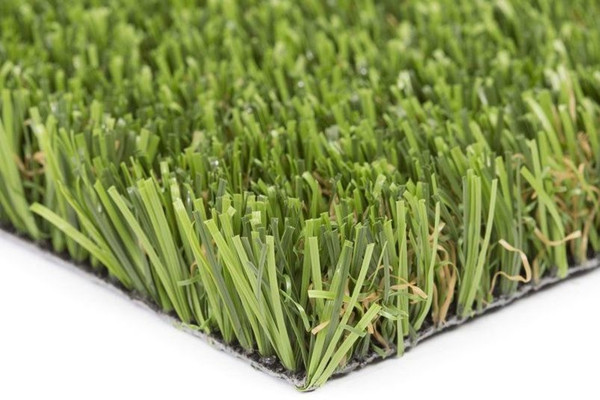 The backing is an extremely important part of any artificial turf.
That's because it's what holds it all together. You can use the most durable, realistic-looking yarns, but with a poor quality backing, your artificial turf won't last.
When looking for a high-quality backing, you need to compare the amount of latex used to form the second layer.
Latex is basically the glue that holds everything together. Inferior products tend to have lower latex content. We strongly recommend that when looking for a strong backing for school or playground applications you should look for a backing that contains at least 900 grams of latex per square meter.
Check with your chosen manufacturer for anchorage resistance - usually measured in Newtons.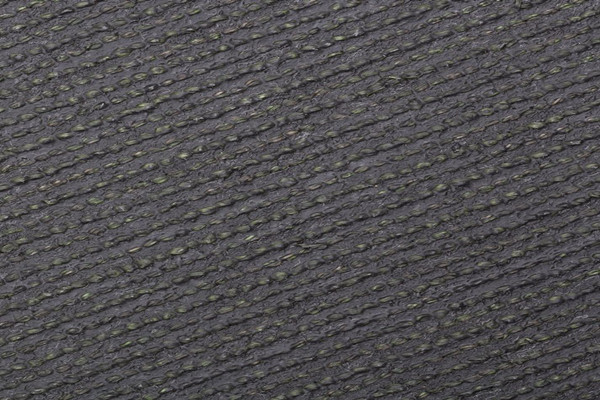 Make sure the lawn you choose has been independently tested for harmful substances

There is absolutely no reason for anything harmful to lurk in artificial turf.
But unfortunately, there have been cases in the past where traces of harmful substances were found.
This makes it extremely important to choose a lawn that has been independently tested and certified to be free of harmful substances.
Don't just take the manufacturer's word for it.
Trust leading industry bodies and independent testing and certification bodies for the textile industry.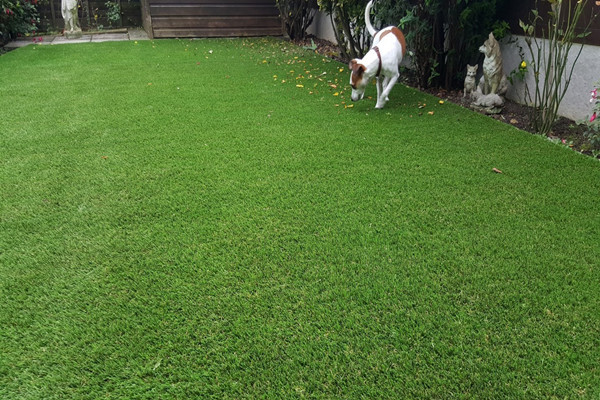 Check for Fire Resistance

Keeping with the safety theme, not only should the fake grass you choose be free of harmful substances, but you'll also want to choose a product that's fire-resistant in case of accidents.
Again, don't just take the manufacturer's word for it, ask for proof.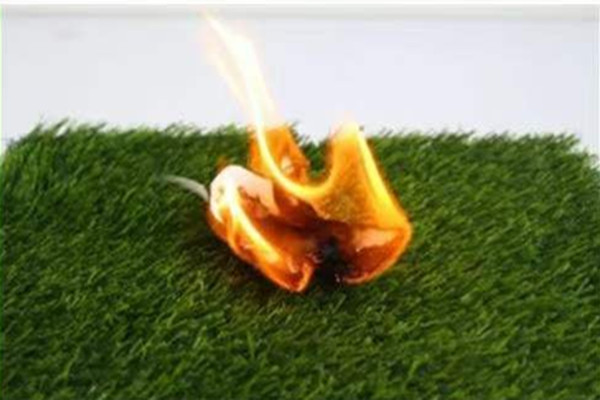 Choosing the best artificial grass for a school or playground is not as simple as choosing the most realistic lawn.
Of course, this is important, but in order to find a hard-wearing turf that will prove to be a great investment over the years, you need to look beyond just aesthetics.
By following the advice presented in this article, you can be sure to find the perfect lawn for the job.
Do you have questions or need any help choosing the best fake grass for your school or playground? Contact us; we'll be more than happy to help.
thanks for reading.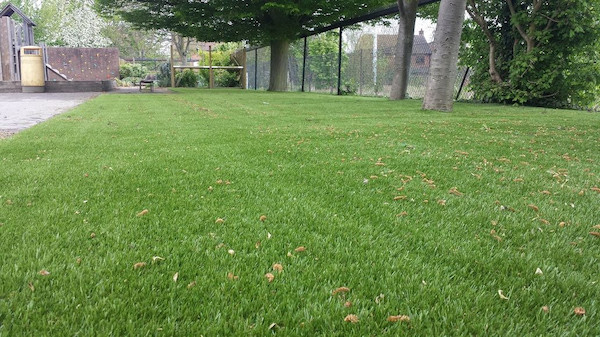 Are you looking for the best artificial grass?

Are you looking for the best artificial grass for your garden? UDINE GRASS is committed to providing the highest performing artificial grass for home sports fields and more. As one of the world's leading suppliers, our grasses are specially developed through years of research and innovation.
Our UDINE artificial grass stands out from the crowd, ensuring you can enjoy the best solution for your tennis court. You can
contact us
and
get a free sample
, we guarantee a quality solution to ensure players can play their best games, and you won't have to deal with lengthy and expensive maintenance schedules!