Artificial Grass for Dogs – Everything You Need to Know
Share
Issue Time

2023/01/31
Summary
Although artificial grass can save a lot of time and money, it is important to know that at least some maintenance is required.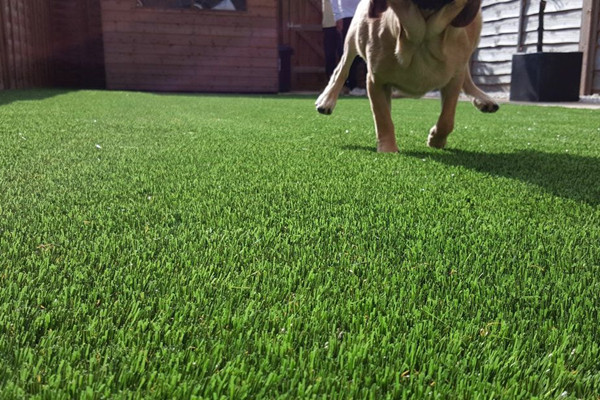 The question we are most often asked by customers considering artificial turf is - "Is artificial turf good for dogs?"

Many pet owners are understandably frustrated at having to clean up muddy paws every time their dog is out in the garden.

The dirt they bring back indoors not only makes a mess, but also makes your home smell bad, while also bringing in unwanted bugs like fleas and ticks.

Plus, real lawn can pose a host of potential health hazards for your dog.

It is for these reasons that Dog Resistant Artificial Grass has attracted so many pet owners across the UK. But many people have questions or concerns, including:

Does urine affect grass? What Is The Best Artificial Grass For Dogs? How should it be installed? Is there a repair involved?

We wrote this guide to help answer those questions and provide a complete dog-proof lawn guide to help you decide if artificial grass is right for you and your pets.

In this guide, we'll cover:

– Benefits of artificial grass for dogs and pets

– How to Choose the Best Artificial Grass for Dogs

– Important installation advice

– Answers to the most common questions pet owners ask

First, let's start with some of the benefits of artificial turf for your dog.
The Advantages of Artificial Grass for Dogs and Pets
A Lush Green Lawn All Year Round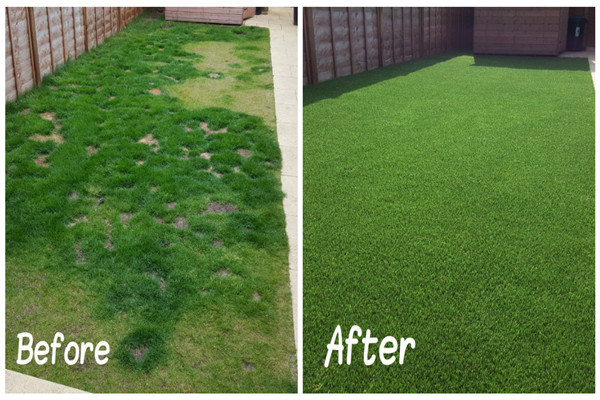 As a dog owner, you know that maintaining a real lawn can feel like a losing battle. Dog pee, digging, and dogs constantly walking up and down year-round can have a devastating effect on your lawn.

You've probably spent hundreds of pounds on professional lawn maintenance, fertilizers, lawn care and expensive lawnmowers - all leaving you with an unattractive and completely unusable lawn.

The worst way your dog can damage your lawn is through its urine, as it can burn real grass.

This is because of its pH. Concentration (i.e. always peeing in the same place) and its nitrogen load may also be factors.

This is bad news for real grass and can result in patchy, burnt turf.

This is where artificial turf can provide major benefits for pet owners.

The plastic fibers of fake grass will not be discolored by dog ​​urine.

This means your dog can still "use" the artificial grass just like the real lawn without causing any damage, burning or staining - ensuring a lush lawn year round.
No More Muddy Paws in the House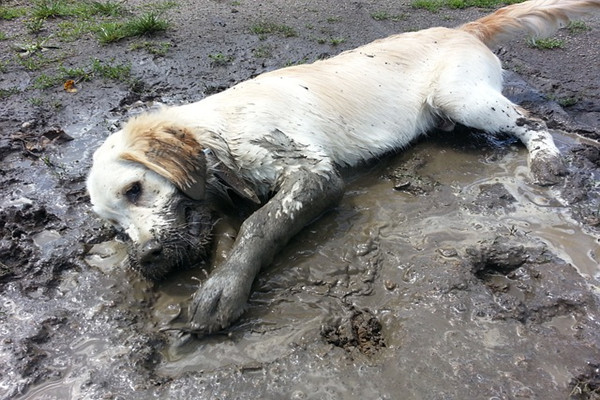 Mud-free artificial grass for dogs

In the winter, most real lawns turn into mud baths -- and your pets love to wallow in them.

It might be fun for your four-legged friends, but not for those cleaning up behind them!

No matter the weather outside, artificial turf for dogs will keep your pets from getting dirt.

It's almost like a hard surface (i.e. no mud) and you'll never have to worry about tracking muddy paw prints around the house again.

This is great news for many pet owners, as it puts an end to the nearly daily chore of cleaning muddy paw prints and muddy paws.

If your dog likes to dig, you might be concerned, but rest assured, it's impossible for dogs to dig through synthetic turf thanks to the tough, double-layer latex backing.



No More Harmful Chemicals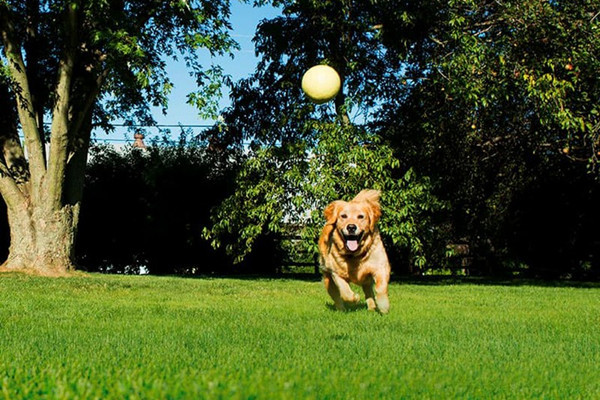 Maintaining a real lawn can involve the use of fertilizers, growth regulators, herbicides, and pesticides.

However, these chemicals can contain toxic ingredients that can be detrimental to your pet's health—not to mention your own or your family's. These toxins can sometimes be fatal to pets.

For some excellent advice on how to prevent poisons in your garden, visit the Animal Welfare Foundation's website and download their fantastic PDF guide here.

However, most artificial grass is 100% non-toxic and completely safe for your pets, you and your family. To ensure your artificial grass is free from harmful substances, always make sure it has been independently tested and verified by an organization.

With a fake lawn, your garden will be free of harmful chemicals - something your dog (and the environment) will appreciate.



A Healthier Environment for Your Dog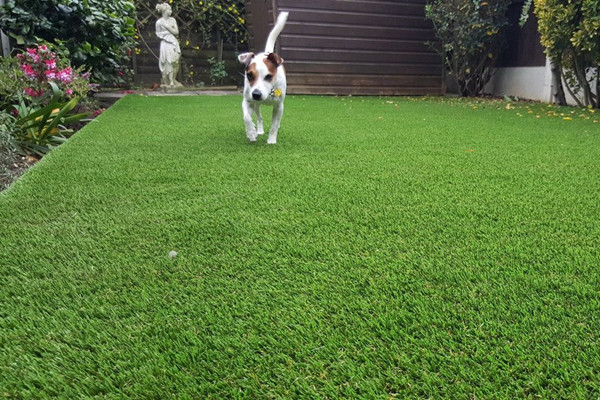 Artificial grass can help prevent your dog from various diseases.

Lungworms can be deadly to dogs, and your pet could become infected by accidentally swallowing infected worms or slugs while eating lawn grass.

A real lawn is also an ideal environment for fleas and ticks to live and thrive. Not only can these bugs be a potential hazard to your dog, but they can also infest your home when your dog is back inside.

Artificial grass for dogs provides a flea and tick free environment.

Besides bugs, there's a long list of weeds and plants that can affect your dog's health. Not all turf is deadly, but remember that with artificial turf, if installed and maintained properly, there will be no environment for weeds to grow.



Great for Dog Kennels and Doggy Day Care Centres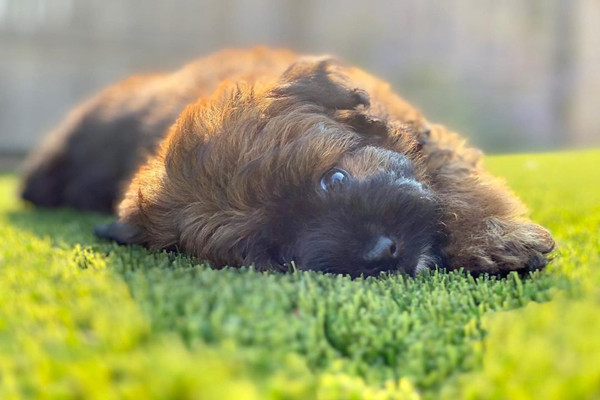 The demand for artificial grass for kennels and daycare centers has increased dramatically in recent years.

The heavy use of outdoor space means that real grass is difficult to maintain.

Because of its wear resistance, artificial grass is a great, low-maintenance choice that creates a safe and enjoyable environment on which dogs will love to roll and play.

It's also great for dog owners because they don't get dirt on their pets when they bring them home.

Now that you understand the main ways artificial grass can benefit you and your pet, there are a few things to consider before purchasing artificial grass for your dog.



What is the Best Artificial Grass for Dogs?
In conclusion, all artificial grass is suitable for dogs and pets. However, some do it better than others.

Since dogs come in all shapes and sizes, it's hard to recommend a one-size-fits-all solution.

For example, a Chihuahua has very different needs than a Pyrenees Mastiff.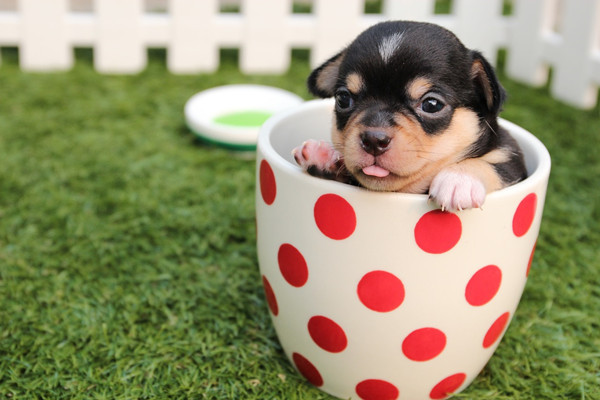 Some people may have several dogs, so potential wear and tear on grass will vary.

The safest option is to use hard-wearing artificial grass. To know if your fake grass is hardwearing, you need to take a close look at the structure and composition of the man-made fibers.

The fibers of synthetic turf are made from one or a blend of three plastics: polypropylene, polyethylene, or nylon (polyamide).

Nylon is the most abrasion resistant, 33% stronger than polyethylene and 26% stronger than polypropylene.

Installing grass made of nylon fibers requires a compromise, though—it's not as flexible as polypropylene or polyethylene. Generally speaking, the softer the plastic, the weaker it is.

To determine which grass is best for an individual's needs, several factors need to be considered.



What is the Best Artificial Grass for Dogs?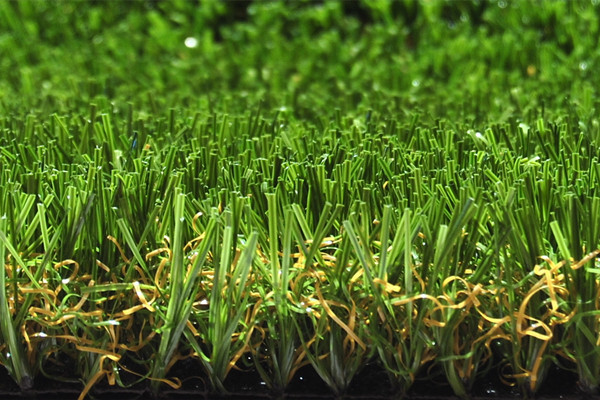 Many people believe that shorter fibers (typically those with a pile height of 25 mm) result in a more durable turf. This is usually true.

For polypropylene and polyethylene, shorter, dense grass with 25mm stakes is a better choice for pet owners.

However, when you choose to use turf made of nylon, 35mm turf will hold up to heavy use better than 25mm polypropylene or polyethylene turf.

So if the fibers are made of nylon, 20-35mm pile is a good choice. If not, choose a 20-25mm stake.



Look for a Grass That is Free From Harmful Substances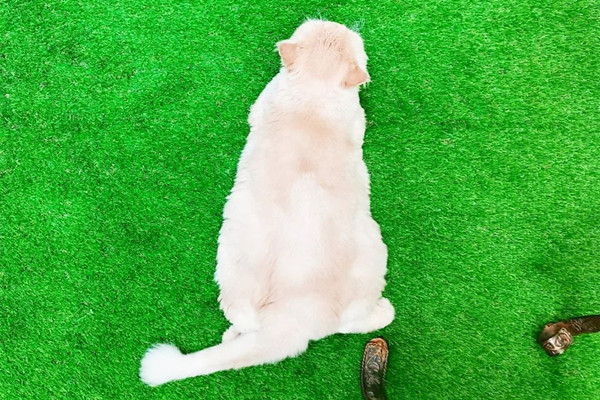 We touched briefly on the importance of choosing a dog-resistant lawn that is free from harmful substances earlier in this article, but it's worth mentioning again.

It is important to know if there are any chemicals in anything in your home or garden environment that could harm you, your family and your pets.

To know for sure, check independent analyzes and certifications on your chosen manufacturer's products.
Some Important Installation Considerations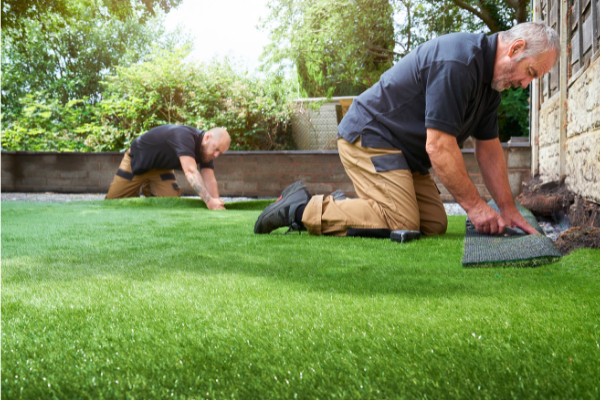 Most of our customers choose to have their artificial turf installed by professionals.

This is a good choice. There are a few tips and tricks for installing artificial turf properly - of course you usually only get one chance to "cut in" to your artificial turf.

There are several different installation methods, and any good contractor can advise you on the best method for your situation, but even so, it's always good to have some background.

Let's look at a few important installation considerations.
Installing the Correct Sub-Base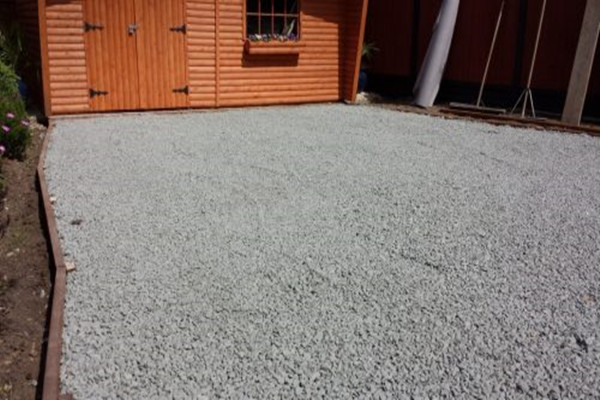 First off, as I'm sure you already know, installing a fake lawn involves removing the existing lawn and preparing the ground before laying the new AstroTurf.

Typically, bases consisting of MOT type 1 will fit to any depth between 50-100mm.

This works for most installations. However, if you are installing artificial grass for your dog, we recommend installing a slightly different base.

Our recommendation is to use anywhere between 10-20mm of granite or limestone chips (whichever is easiest to source locally).

This is basically type 1, which has been passed through a giant sieve to remove fines, leaving only crumbs or stones.

This is installed in the same way as Type 1 (i.e. a minimum depth of 50 mm and compacted using a vibratory plate compactor).

This will provide a free-draining lawn - essential for dog urine to drain through the grass without leaving behind a bad smell.
Ensure Edges Are Adequately Secured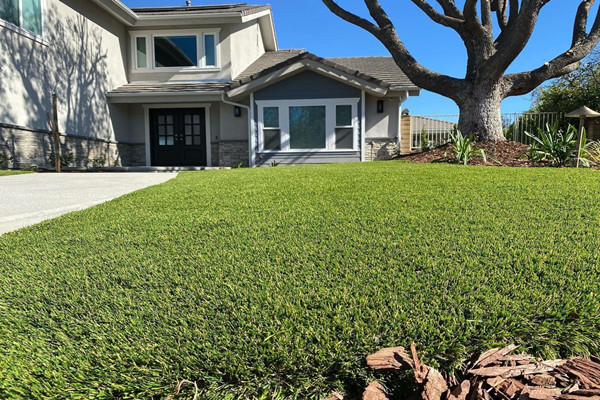 When installed correctly, your dog will not be able to tear, tear or lift the artificial grass at the edge of your lawn.

Again, there is no one-size-fits-all approach to choosing the best method, as it depends on the specifics of each job.

But to prevent your dog from tearing or tearing your grass by grabbing the edges, your contractor will need to install edge restraints to hold the grass in place.

This can be installed using treated lumber, composite plastic lumber (won't rot), steel edging, or some form of concrete edging. The installer will usually need to "wrap" the grass around this edge and secure the grass to prevent it from being lifted at the edge.

Another popular option is to install raised sleeper beds around the lawn.

If this is the case, you won't need any other form of edge system, as it's simple enough for your installer to screw or nail the edge into the sleepers - preventing your dog from pulling it up on the edge.

Again, if you're not sure what to do best in your situation, consult a professional.

You should now know how to choose the best dog resistant artificial grass and what to consider when installing it.

However, you may have other questions or concerns before deciding whether artificial turf is right for you.

Below you will find answers to the most frequently asked questions:
Can dogs dig through artificial grass?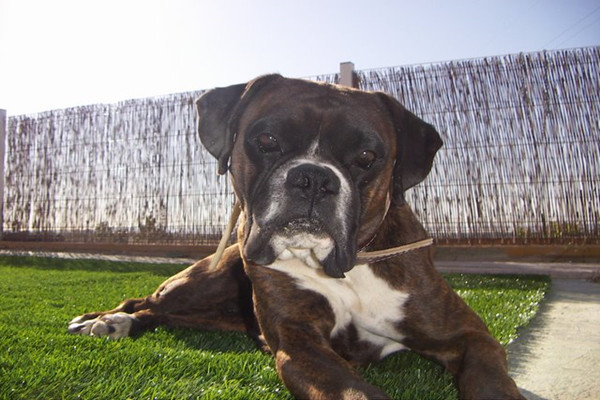 If your dog loves nothing more than digging a nice big hole, then you are right to be concerned about your furry friend destroying your new fake grass.

However, if the above installation advice is adhered to, then your dog will be unable to lift the grass at the sides. Due to the double-coated latex backing that most artificial grasses have, even the most determined dog will be unable to dig through it.
What happens if a dog urinates/wees on artificial grass?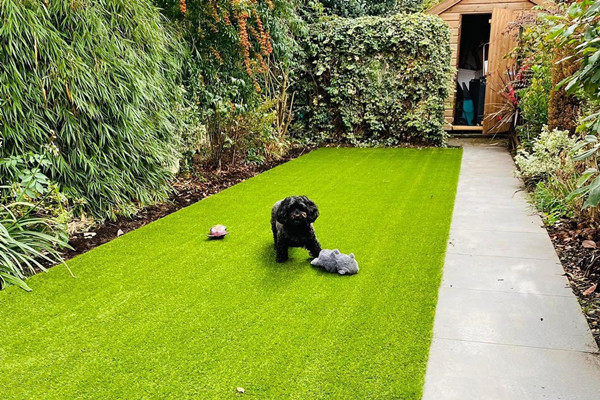 If your lawn is installed on a permeable substrate, most of the urine will pass out.

The backing of artificial grass has drainage holes and most grasses can drain about 50 liters of liquid per square meter per hour, making your artificial lawn drain very quickly.

Urine marks may be left on artificial turf. In the absence of rain for a long time, the ammonia produced in the urine may release the odor.

This is easily resolved by rinsing or watering the affected area.

Due to the heavy rainfall in the UK, if this happens, it will usually only happen in the middle of summer after a long period of no rain.

For general garden installations, the permeable sub-base layer is sufficient to prevent any odors and eliminate pet urine in dog artificial grass.

In some special cases, such as in kennels, dog day care centers, and dog runs—where large amounts of urine may be produced on an ongoing basis—organic, non-hazardous fillers are recommended.
How do you clean dog poop off artificial grass?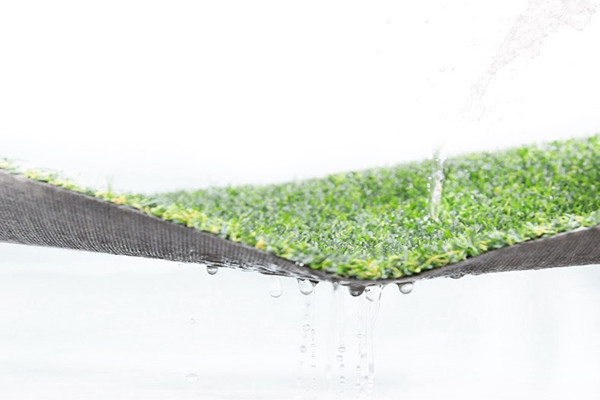 It's as easy as treating a real lawn. Likewise, the liquid can be flushed through the grass and drained in the same way as when pet urine is disposed of.

Dog poop will not cause any damage to artificial grass.
Will the dog still play on it?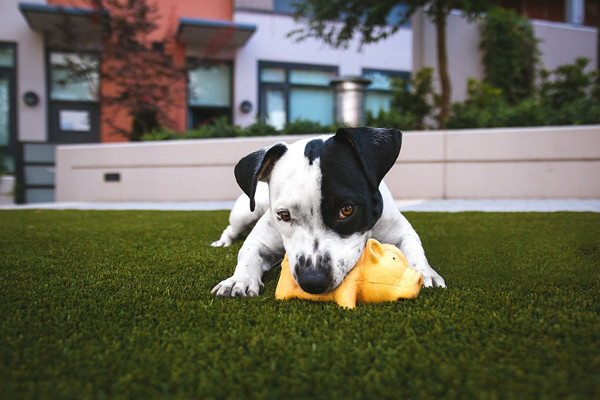 Yes, dogs love it.

They'll play, roll and run on the synthetic turf just as they would an old lawn.

But the good news is they'll have a healthier play environment and you can say goodbye to muddy paws and mess.
What is the cost of pet-friendly artificial grass?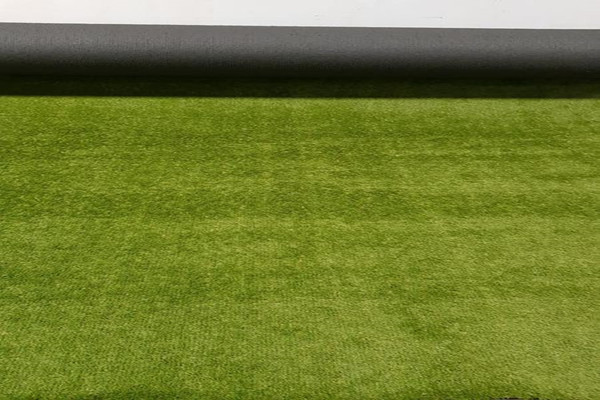 This is hard to answer because every installation is unique.

You can find our artificial grass prices on this website, but remember these prices are for grass only and not installation.

Because installation costs vary widely.

As a rough guide, a 60 square meter lawn typically takes two installers two days to complete.

Then you have waste disposal costs, sub-base installation costs (aggregate availability and cost will vary across the UK), weeding membranes, edge restrictions and other installation accessories such as adhesives and joint tape.

Some installations also require more cutting than others, which may take longer.

Since artificial grass is only 2m and 4m wide, you may be wasting too much resources trying to achieve the size and shape of your lawn that you need.

Also, if the grass is on a deck or concrete/paving, the installation method is different and thus the costs involved.

Hope you understand by now, unfortunately there is no set price for artificial turf installation.

However, to give you a very rough idea, an average 60sqm lawn can cost £2,500-£3,500 including materials, labor and VAT.

The best way to get an idea of ​​costs is to contact three reputable local artificial grass installers and ask each of them to provide you with a written quote.
How do you clean artificial turf?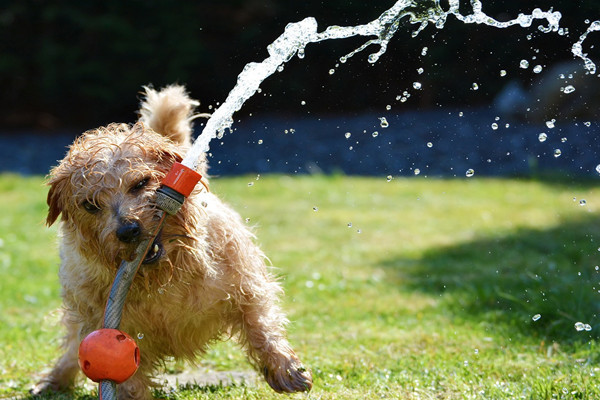 Anyone claiming that artificial grass is "zero maintenance" is not being entirely honest.

There is some maintenance involved, but it's minimal compared to a real lawn.

Over time, debris builds up at the bottom of the pile. This is easily removed by brushing the grass with a stiff broom (opposite direction of the haystack) or with a garden vacuum.

It is always wise to brush the grass occasionally with a stiff broom. This keeps the fibers in top condition (even if you have a garden vacuum). How often you need to do this depends on usage, but usually 2-3 times a year is enough.

Rainwater is usually enough when cleaning your lawn.

Of course, you can also rinse it off with water. While certainly not necessary, there is now a range of easy-to-use cleaning products.

In case you were wondering, regular household disinfectants are totally fine too.
How do you remove dog hair from synthetic grass?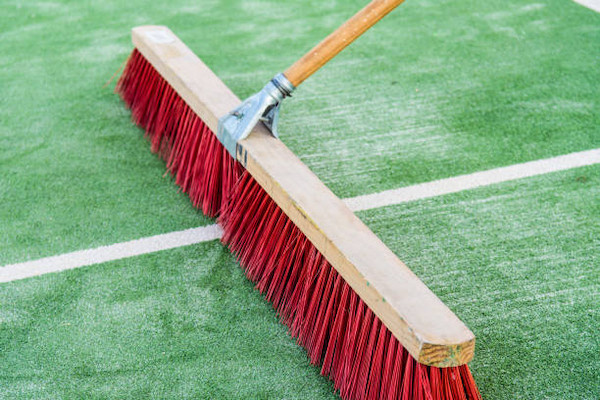 Or, get yourself a stiff broom, scrub with fibers, push the broom down into the grass, and move the broom up and down the lawn in one continuous motion. Make sure the broom is in firm contact with the lawn without using the brush.

This removes hair like a garden vacuum.

Typically, this task needs to be performed once or twice a year, depending on usage.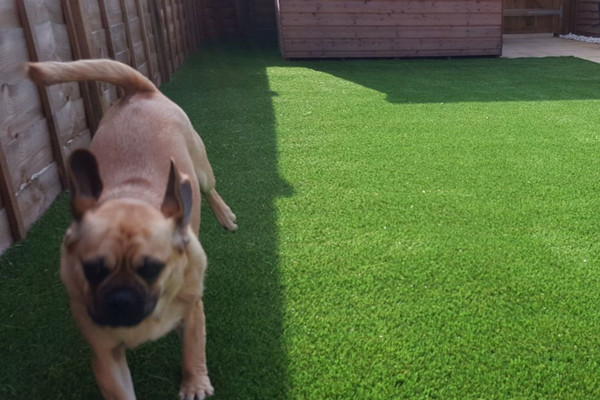 For those who want a stunning low-maintenance lawn that dogs can't break, artificial grass may be the perfect solution.

Its low maintenance is sure to appeal to many, and the days of having to clean up after a muddy dog ​​may be a thing of the past.

It will also provide a safer environment for your dog and of course other family members.

However, as with anything in life, you have options and factors to consider.

Hope this article helps guide you in deciding whether artificial grass is right for your pet.

If you have any other questions, feel free to let us know in the comments below.

You can view our artificial grass for dogs here.
Are you looking for the best artificial grass?

Are you looking for the best artificial grass for your garden? UDINE GRASS is committed to providing the highest performing artificial grass for home sports fields and more. As one of the world's leading suppliers, our grasses are specially developed through years of research and innovation.
Our UDINE artificial grass stands out from the crowd, ensuring you can enjoy the best solution for your tennis court. You can
contact us
and
get a free sample
, we guarantee a quality solution to ensure players can play their best games, and you won't have to deal with lengthy and expensive maintenance schedules!